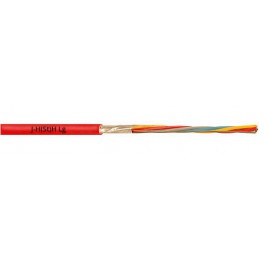 Maximize
Remove this product from my favorite's list.
Add this product to my list of favorites.
J-H(St)H ...Lg - Halogen free (HFFR), fire alarm, data cable
Conductor           : plain copper, solid.
Insulation             : HFFR compound, HI2, VDE 0207-23.
Core identification : VDE 0815. *cables with 2 pairs laid up as a star quad.
Pair                     : laid up in layers of optimum pitch.
Lay-up                 : star quads, each 5 star quads stranded in units,
                            each unit laid up in layers.
Separator            : polyester tape.
Screen                : tinned Cu drain wire under the AL-PES tape.  
                           Phi: 0,40 mm ≤10 pairs.  
                           Phi: 0,60 mm > 10 pairs. 
                           Upon requst drain wire dimension.
Outer sheath       : HFFR compound, HM2, VDE 0207-24.  
                           HFFR: Halogen-free flame retardant.
Sheath colour      : RAL 3000, Red.